Auto Routing - tobymao/18xx Wiki
Usage
When initially creating a game, enable Auto Routing under "Game Options". It is disabled by default.
While choosing routes, click the Auto button to run Auto Routing to find the highest-paying routes. This may cause the page to be unresponsive for a few seconds while routes are calculated. You may have to click "Wait for site to respond" if your browser pops up a warning.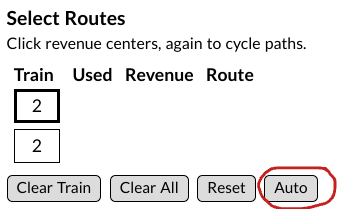 If you have already manually chosen routes for a train (e.g. if the route is colored in), those routes will not be autorouted.
If you'd like to start from scratch and recalculate all routes, click Clear All and then Auto.
Performance
Auto Routing may not find an optimal set of routes for every situation. It may timeout if processing is taking too long.
Games with large maps and "Lawson" style track are more likely to timeout.
Auto Routing will not always find the optimal routes for games that require the home token to be used for at least one route or that require routes to intersect (such as 1860, 1862 and Harzbahn 1873).
Routes are calculated on your local computer (not the server), so it will likely be faster on computers versus phones.
Choosing at least one train route manually will drastically speed up calculation, as those routes will be "locked" and Auto Routing will attempt to optimize the other routes.
While calculating routes, progress messages are logged to the browser console output