Developer Log - alyoshenka/neo GitHub Wiki
This will be used to keep track of my progress throughout the completion of this project
Initial Project Preparation and Decisions
Project Setup
January: 12 hrs
start 1/2
Following the tutorial here
Issue: can't connect using different topic name
Solution: change device policy (it was only allowing pub/sub with "sdk/test/python"
success! I can turn an LED on and off using the MQTT test client
time: 2 hrs
Proposal redo: 2 hrs
playing around with mqtt: 1 hr
logged 1/14: 5 hrs
Working on issue #10
Other stuff

gathering example vids: 1 hr
meeting with potential teammate: 1 hr
discussing with teammate; reviewing stock ticker: 1 hr

Revamping drawing library: repo

nested git repos? stock ticker should build on drawing library. probably too much stuff to make this a gist. I think I'm just gonna start it over.
add python project and set up linting + tests with Actions: 1 hr
you can draw a board!: 1 hr
logged 1/27: 7 hrs
February: 14 hrs
Neopolitan
lots of pylint and import errors: 1 hr
redoing data transformation for writing symbols: 1 hr
Neo
make code easier to understand: 1 hr
install and configure pylint: 1 hr
Neopolitan
add CL arguments for message display: 1 hr
working on GH Actions error that is causing tests to fail: 1 hr

local pylint + pytest solved by removing __init__.py from src/
only run CI pytests in tests/ directory
add __init__.py with import sys; sys.path.append('src/') to tests/

CI tests pass: 1 hr

couldn't merge branch because I was updating branch protection rules for the wrong repo...whoops
logged 2/3: 7 hrs
Neopolitan:
did a bit more cleaning up: enabled scrolling speeds and padding if it scrolls itself out of data: 1 hr
Neo:
reorganize mqtt connection code a bit and work on linter: 1 hr

probably doesn't work because aws_iot is not included in repo

research git submodules to include aws_iot in the project without manually adding all the code to my repo
figured out linting error: was downloading pylint twice (once directly, once in requirements): 1 hr
get all changes merged in and resolve merge conflicts and clean up branches: 1 hr
get linter to work: 1 hr

also added a .bashrc alias to run my linting command on lint

added pytest locally: 1 hr

need to configure secrets to get workflow to pass

set up local secrets: 1 hr

linting is good. tests fail, but are set up (almost) correctly
env vars need to match case. duh.
logged 2/10: 7 hrs
Neo
added an AWS MQTT test: 1 hr
Dibiasky
start a (simple) react app and start looking into AWS authentication: 1 hr
AWS Amplify tutorial: 1 hr
Different AWS Amplify tutorial: 1 hr
March: ? hrs
logged 3/5: 4 hrs
Dibiasky
Got stuck on that tutorial and started looking for other ones: 1 hr
Working on AWS Amplify tutorial - trying to attach policy: 2 hrs

Success!
Solution: needed to add wss://* and */mqtt to aws_pubsub_endpoint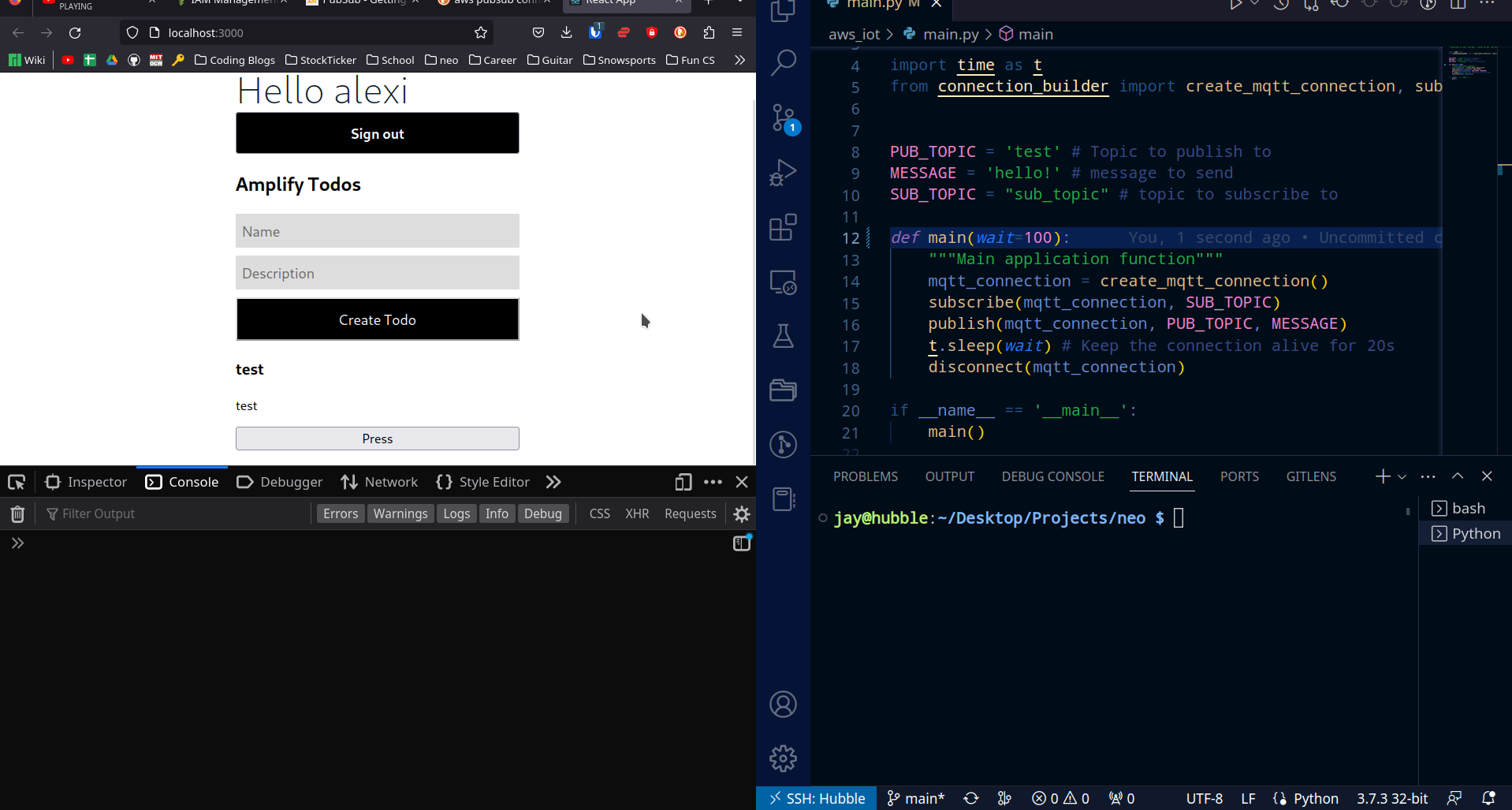 Migrating example code to repo: 1 hr
Diagnosing ConnectionDisrupted errors: 1 hr

Solution: aws configure != sudo aws configure (run the latter)
IAM > Users > Allow user to IoTAttachPolicy
sudo aws iot attach-policy --policy-name 'policy' --target 'region:cognito' --output json

Set up repo secrets and push to GH: 1 hr
Read about designing MQTT topics: 1 hr
Design IoT topics and abstract MQTT connection code: 1 hr
Neo
Design IoT topics (same as above, just in Python): 1 hr
logged 3/10: 9 hrs
Neo
Design IoT topics on Pi; debug errors to push: 1 hr
Dibiasky
Working on designing IoT topics to get a response after publishing a command: 2 hrs
Setting up CI; adding some tests; setting up branch protection: 1 hr
Writing tests and dealing with Cognito/auth issues in Jest: 1 hr
Set up linting workflow: 1 hr
Fixing merge conflicts, messing around with React: 1 hr
Messing around with React, debugging useState issues: 1 hr
trying to figure out why it won't connect to Amplify: 3 hrs

Pi can still pubsub
still no idea
updated packages
checked that current PubSub version has no errors
solution: delete all aws-amplify files in node_modules and reinstall
logged 3/24: 11 hrs
Dibiasky
working on Cognito test: 1 hr

Can still get connection status and cognito id without withAuthenticator
web app running or not doesn't affect it
still struggling, tabling for now
Neo
Make it so webpage can run board operations: 1 hr

Allow all users to run neopixeltest with sudo without password
Add alias to neopixeltest in .bashrc
it kind of works, but not great (yet)
still need to input sudo password on first go

Working with sudo permissions to run neopixeltest: 1 hr

solution: allow command to flash LEDs (using sudo) to individual user, not all users
I can trigger an LED animation from a webpage, that's pretty darn cool!

Design a data topic: 1 hr

req/res to get available Pi operations: 1 hr
Dibiasky
webpage design, more repo organization: 1 hr