Guild and Channel IDs - abbydiode/UndiscordPlus Wiki
Guild ID
Right click the image of the guild you would like to wipe your messages from.
Click Copy ID.
Guild Channel ID
Right click the channel you would like to be wiped.
Click Copy ID.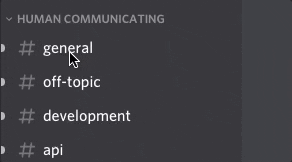 Private Conversation ID
Copy the number after /@me/ in the address bar.
You can target multiple channels in sequence by separating them with a comma!
Deleting all messages automatically
To delete all message from every (user) channel do following:
Go to User Settings Privacy and Safety and click on Request all my Data.
You should receive an email with all data that Discord has of you within the next 30 days.
Click on the Import JSON button then import the file called index.json and is located in the messages folder.
The channel IDs will be automatically imported separated by a comma.
If the Copy ID button doesn't show up, you need to enable developer mode first.